Ceanothus is a genus with 50-60 known species that are native to North America, the majority of which are native to California. The California native Ceanothus are commonly called "California Lilac" or "Blue Blossom". California Lilacs come in a variety of forms, but all share the same characteristics of spring flowers, evergreen foliage and drought tolerance. Most have small green leaves with mostly blue or sometimes white blossoms. Ceanothus can have a reputation for being short-lived however their early demise is avoidable.
For all California native Ceanothus, they should be planted in nutrient-poor, fast-draining soil with no extra irrigation during summer (except in the first year). Summer water is the biggest killer for these plants. In a Mediterranean climate with dry summers, Ceanothus shrubs can live for 20+ years. Despite this intolerance for wet feet in summer, several species are known to grow well in temperate and maritime climates. 12 cultivars have received the UK Royal Horticultural Society Award of Garden Merit for use in rainy British gardens.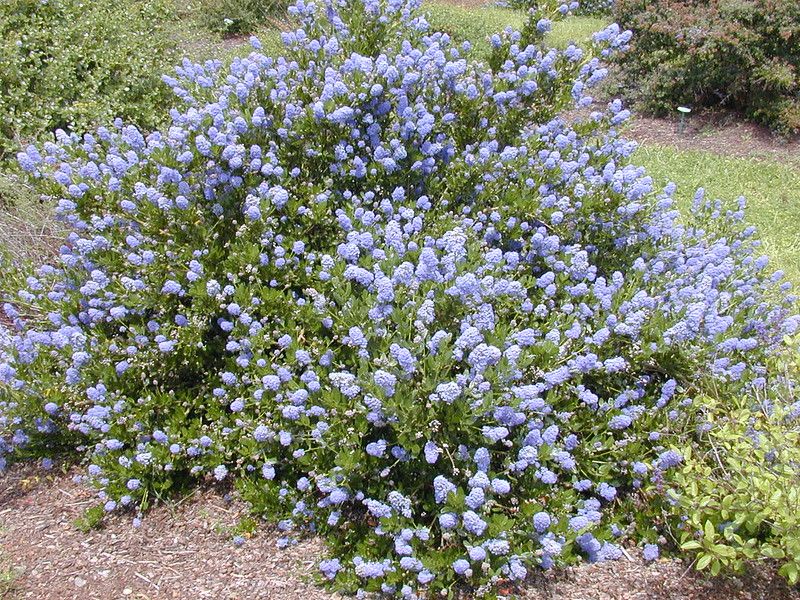 Cultivars, Hybrids and Select Species
Ceanothus plants come in a wide range of forms from low ground cover to a small tree. Below we highlight a few species and cultivars that are well suited to garden conditions.
Ceanothus griseus var. horizontalis
Cultivars of C. griseus are known as Carmel Ceanothus, named after the California Seaside town. Cultivars that are derived from Ceanothus griseus var. horizontalis are low-growing groundcovers and are known as Carmel Creeper Ceanothus. Sometimes labeled as C. griseus var. repens or C. thyrsiflorus var. griseus. Carmel creeper grows naturally on the California coast from Santa Barbara to Mendocino county. These are easy to grow in a coastal garden but will require some afternoon sun and supplemental summer water in hotter inland areas, where they tend to be more short-lived than in coastal conditions.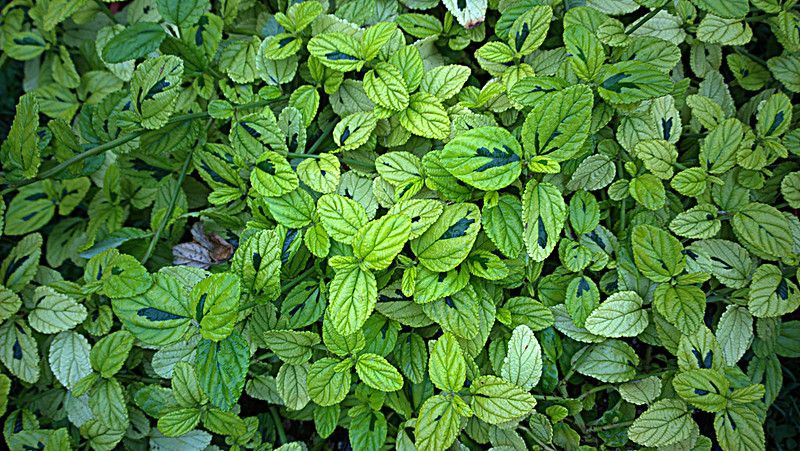 The selections 'Yankee Point' and 'Diamond Heights' are the most common of these used in Gardens. 'Yankee Point' can grow a little taller (3ft /1m) than Diamond Heights (<1ft / <30cm). 'Diamond Heights' features variegated dark green/chartreuse leaves but less vibrant blue blossoms than Yankee Point. Many gardeners remove the pale blue blossoms preferring to highlight the appearance of the leaves. Yankee Point is more durable and is often seen planted at new construction residences.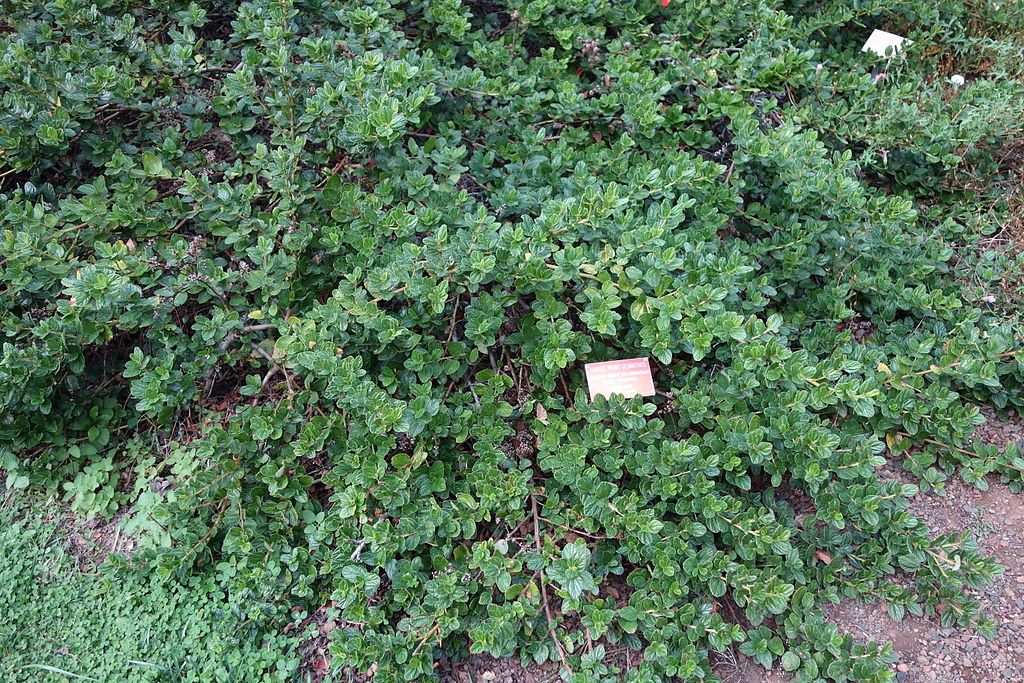 Ceanothus 'Zanzibar'
This a garden hybrid derived from C. thyrsiflorus, and features variegated leaves with a more golden hue than 'Diamond Heights' and vibrant blue flowers. C. 'Zanzibar' is an upright shrub, growing 8ft (2.5m) or more and can be trimmed up to form a small tree-shaped shrub. This Ceanothus is more forgiving of soil conditions and while it prefers to stay dry in summer it can tolerate wet feet better than other Ceanothus species. This is likely due to its origin as self-hybridising cultivar grown in the gardens of Pershore Horticultural College, in rainy Warwickshire, England. Due to this origin, it is sometimes labeled as 'Pershore Zanzibar'. Unlike C. griseus, this Ceanothus prefers full sun and can handle very hot conditions.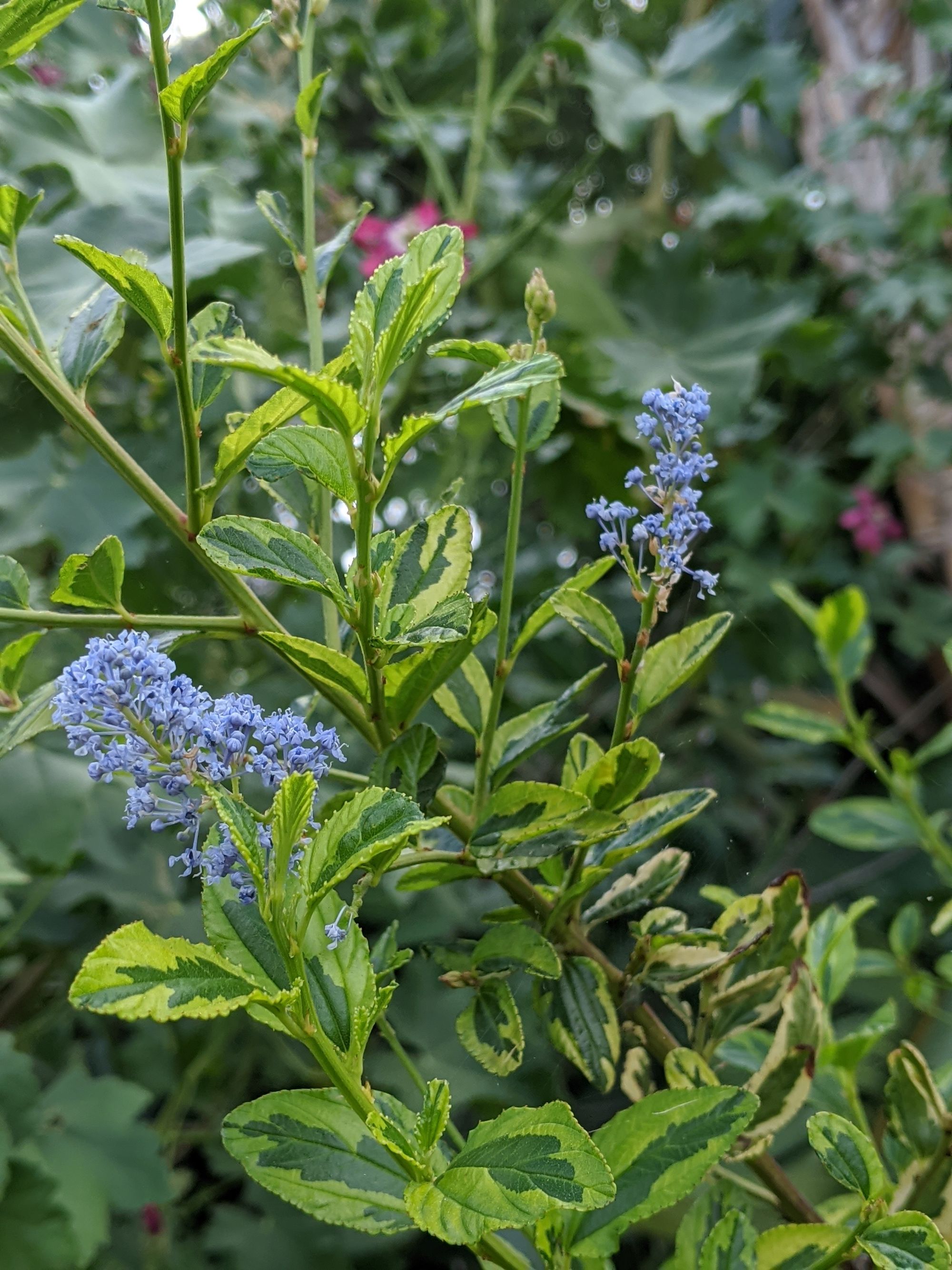 C. 'el Dorado' is a similar variety that was selected from a C. 'Zanzibar' specimen grown at Pershore College.
Ceanothus 'Snow Flurry' has a similar heritage and growth pattern but has normal green leaves and white flowers.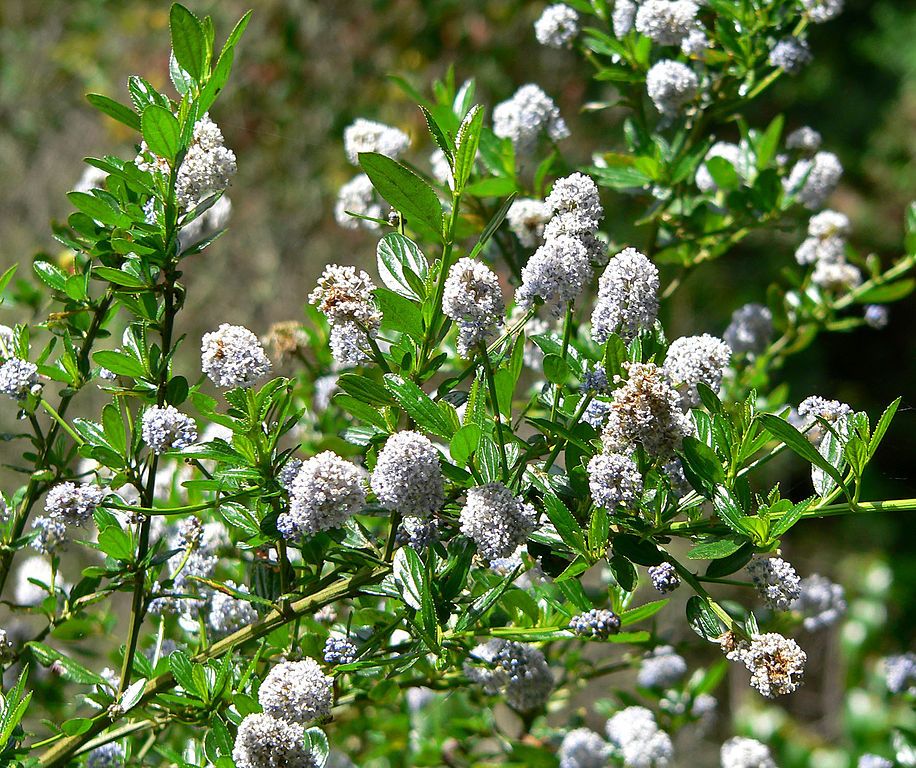 Ceanothus 'Tuxedo'
Tuxedo Ceanothus is a very unique cultivar. This is another hybrid derived from C. thyrsiflorus and has striking glossy black leaves with the typical Ceanothus blue blossoms. This selection was discovered by Fitzgerald nursery in Ireland and is very tolerant of cold weather conditions. Unlike most Ceanothus with California lineage, this shrub flowers in Late Summer into Autumn. The dark foliage makes for a great contrast with the blue flowers.
Ceanothus 'Ray Hartman'
Ray Hartman Ceanothus is a hybrid cultivar derived from C. griseus and C. arboreus. This is another hardy selection of Ceanothus that can be planted in a variety of conditions. The species name "arboreus" is taken from latin to mean "tree-like". Cultivars of C. arboreus tend to grow quite tall, and a mature Ray Hartman can be pruned to form a small tree up to 20 ft (6m) in height.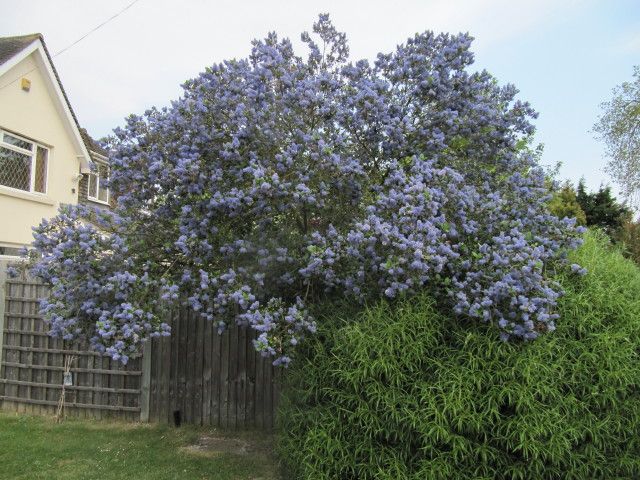 For smaller spaces, Ceanothus 'Frosty Blue' has the same parentage and grows to only half the size of 'Ray Hartman'.
Other Hardy Cultivars
Ceanothus 'Concha' and Ceanothus 'Dark Star' are both medium sized shrubs. 'Concha' is one of the earliest cultivars offered by growers. These selections are often short-lived in hotter areas but do very well in coastal or temperate climates. The leaves on these shrubs are smaller than typical Ceanothus and they are profuse bloomers, especially in their third and fourth year in the ground.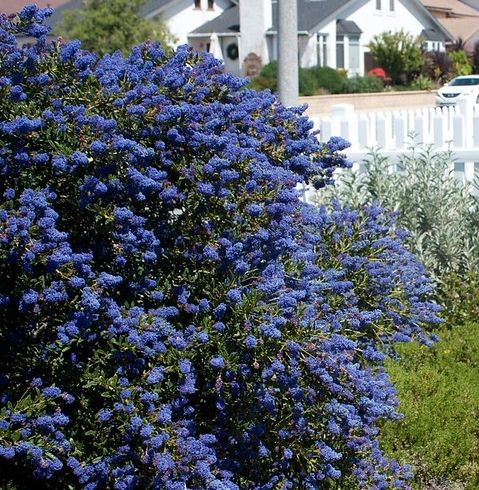 How to Grow Ceanothus
Ceanothus should be planted in a full sun location, except coastal species that prefer some afternoon shade in hotter inland locations. The selected cultivars in this blog post are quite forgiving of soil, but these shrubs should ideally be planted in fast draining soil. If you have nothing but clay soil in your garden, these can be planted on slopes or planted in a mound of well draining soil sitting on the clay soil. If you live in a wet summer climate, you must ensure that water drains away from the root ball after rain events to prevent root rot. Try to avoid summer water after the first year in the ground, and make sure it is only watered during cool temperatures. Warm soil and moisture will encourage bacterial growth that can cause root rot.
All Ceanothus are nitrogen-fixing plants will improve the soil over time.
Ceanothus do not like to be transplanted after they are planted in soil. Choose placement carefully.
Ceanothus does not require any pruning and pinch-tipping flowers will not encourage a repeat bloom. For shaping, they can be pruned after flowering, and only branches less than 1/4" (6mm) should be cut. When pruning, always do this when humidity is low as the cuts can be infected and the shrub can succumb to Apricot canker.
Ceanothus can be grown as an espalier.
Ceanothus are generally fast-growing but their growth is typically modest in the first year. Once the root system is well established, Ceanothus will take off above the surface. After establishment, a Ceanothus shrub should require no maintenance at all for the rest of its lifetime.